A country with 1.4 billion mouths to feed is on a trajectory to become the world's No. 1 cheese importer, presenting a huge opportunity for U.S. dairy exporters. 
Editor's note: USDEC President and CEO Tom Vilsack will give an address Saturday at the China Dairy Industry Association's meeting in Xi'an, China. This article explains China's growing love for cheese.  
"Rocky" Jia never saw cheese as a child. He didn't taste it until he was 25 and landed a job at Jenny Lou's, a Chinese supermarket chain providing high-end imported products.
The kid who never tasted cheese now oversees the purchase of retail cheeses from all over the world. Jia is both a metaphor and a purveyor for China's growing love for cheese, a food rarely found in a traditional Chinese diet.
When he took the job at Jenny Lou's, Jian started by tasting gouda, cheddar and parmesan. Now he enjoys stronger cheeses, like bleu cheese. He adores American colby jack.
"As China's economy continues to grow and our society continues to open to other cultures, there is more interaction with the West and other countries that produce cheese." said Jia, 37, in an interview at his office. "There will be more acceptance of cheese among Chinese consumers."
Cheese is fast becoming a crowd favorite in big cities, especially among young people. Trends fueled by the young and affluent will no doubt spread.
"Rocky" Jia didn't taste cheese until he was 25. Now he buys cheese imports for this Beijing store, Jenny Lou's.  He says he wants to buy more cheese from the United States.
---
The numbers don't lie
Chinese import volume of cheese has soared more than 50-fold since 2000, from less than 2,000 metric tons to more than 108,000 tons in 2017.
Another statistic: Chinese cheese imports have posted a compound annual growth rate of 27 percent.
China is already the No. 7 cheese buyer in the world by volume, but it's just getting started.
China will become the world's No. 1 cheese importer over the next 10 years and could reach that milestone even sooner, says Ross Christieson, USDEC business unit director for North Asia. That would be remarkable for a country just starting to discover cheese.
Christieson sees five major drivers:
Increasing upper-middle-class and affluent households.
A new generation of freer-spending, sophisticated consumers, born since 1980.
The growing power and ease of ecommerce delivering cheese to China's doors.
The continued spread of Western-style pizza, along with increased cheese utilization by home-grown bakery outlets.
Foodservice chains introducing more Chinese to the pleasure of cheese.
U.S. cheese exports to China soar in 2017
China is an important growth market for the U.S. dairy industry, with cheese a major focus.
In 2017, the United States sold $577 million in dairy products to China, an increase of 49 percent over the previous year. U.S. cheese exports to China were up 46 percent.
The U.S. dairy industry supports nearly 3 million jobs. If U.S. cheese suppliers continue to make inroads in China, that would mean more U.S. exports and more U.S. jobs. See 
GotDairyJobs.org
 for economic impact data.
USDEC President and CEO Tom Vilsack will present his take on the opportunity Saturday when he gives an address at the China Dairy Industry Association's meeting in Xi'an, China.
"With an abundant supply of milk, U.S. dairy exporters are uniquely equipped to meet growing Chinese demand for not only cheese, but a wide range of nutritious, high-quality dairy products that are safely and sustainably produced.," said Vilsack.
"This is a partnership that will continue to benefit both countries for years to come."
Tariffs pose new challenge
Growth this year will be challenged by new tariffs, part of a trade disagreement between China and the United States.
The United States announced tariffs on a list of Chinese products on June 15. China retaliated the same day by announcing tariffs on hundreds of U.S. imports, including a wide range of dairy products. The Chinese tariffs are now as high as 25 percent on most U.S. dairy products.
The tariffs put the United States at a competitive disadvantage against New Zealand, the European Union and cheese exporters from other countries vying to meet growing cheese demand in a country with 1.4 billion hungry mouths to feed, a population four times larger than that of the United States.
Unique cheese partnership: China and the United States
Despite the tariffs, China is a market that remains a vital part of the U.S. dairy industry's long-term strategy to increase exports.
There is huge potential helping the Chinese people "say cheese." If exports to China continue to increase, they will provide a major boost to a U.S. dairy industry that supports 2.9 million jobs.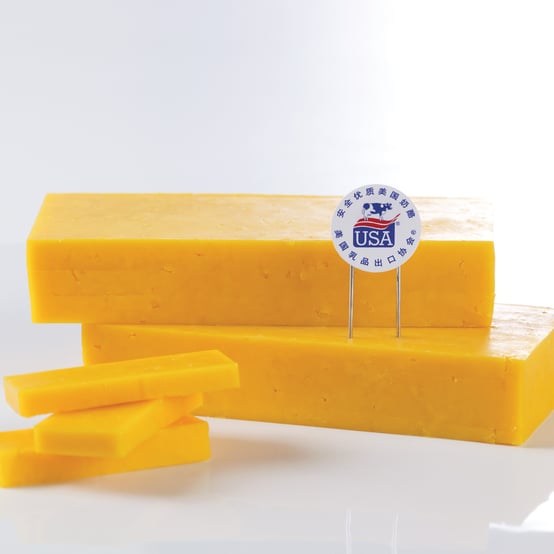 Bullish on U.S. cheese  
Sitting at his desk for an interview utilizing a translator, Jia explains why cheese wasn't available growing up in his hometown of Luoyang, a city of 1.8 million people.
"There simply was no cheese," he says. "The Chinese didn't have KFC or McDonald's back then, either."
In 12 years, Jia has worked his way up to manager at Jenny Lou's head office at 1 Nongzhanquan in Beijing's Chaoyang District, where he oversees the purchase of retail cheeses from all over the world.
"Build it and they will come" is an often-quoted expression of confidence from "Field of Dreams," a classic baseball movie. Jia says the same is true about Chinese consumers: "Bring U.S. cheese and we will eat it."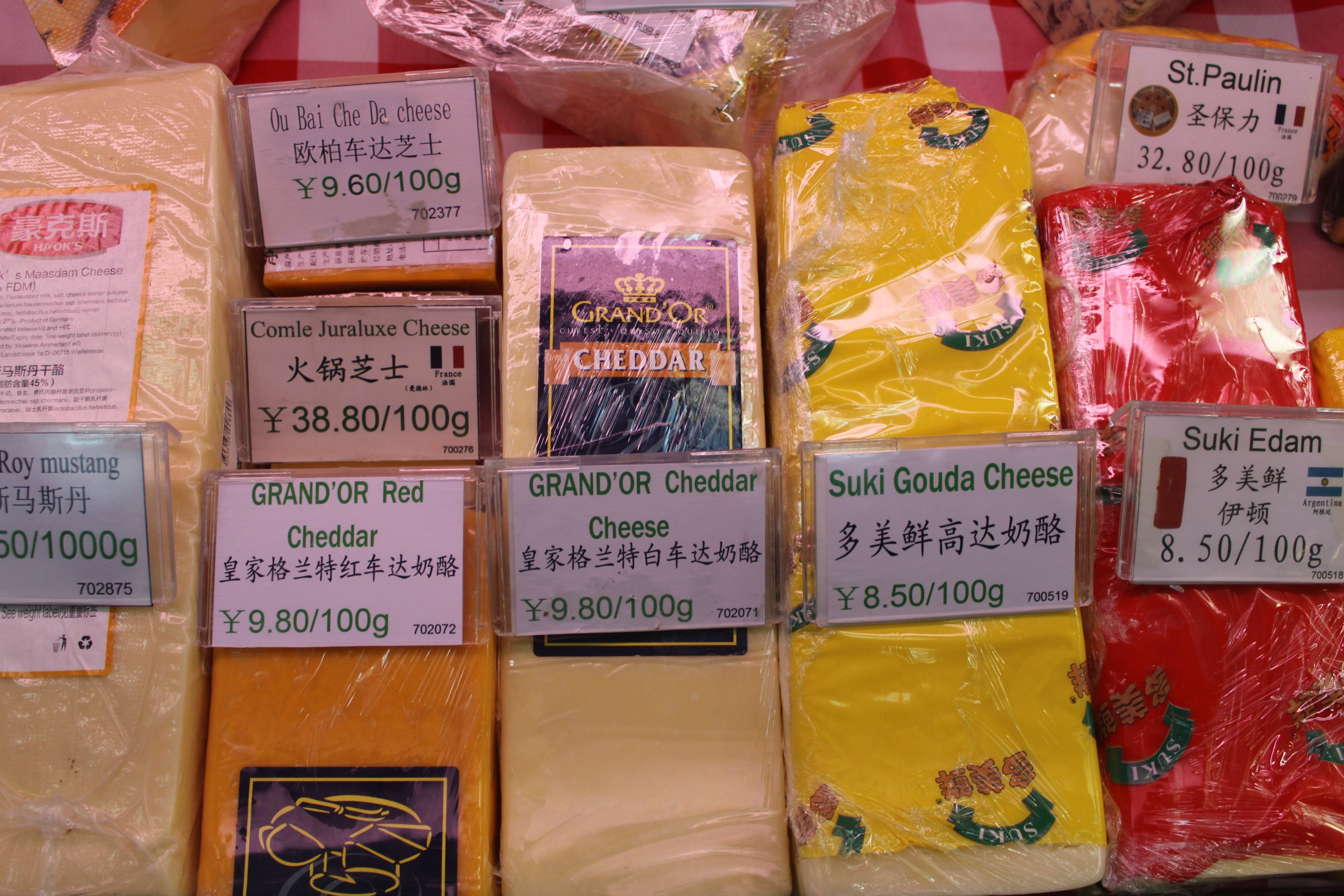 Cheese sold at Jenny Lou's, a supermarket chain that provides high-end imported products for expatriates and Chinese citizens.
---
"At the moment, Chinese consumers are still at a very initial stage with cheese," says Jia. "But look at what happened with hamburgers. Americans sent hamburgers to the Chinese market and the Chinese took it up straight away. That is the same concept that can be applied to American cheeses as well."
Mark O'Keefe is vice president of editorial services at the U.S. Dairy Export Council.