The U.S. Dairy Business & Innovation Conference kicked off today with an upbeat video message from USDEC President and CEO Tom Vilsack outlining how U.S. suppliers are committed to meeting South Korea's growing demand for dairy, especially cheese.
"Korea is absolutely essential for USDEC's recently announced strategy for growth," Vilsack said (watch video below). "As a result, we are in the process of strengthening our presence in the country to help cement and develop trade between the countries.
"This includes, but it is not limited to, having greater presence in the market, focusing on customer service and support, and fostering market-specific innovation. USDEC is delivering content around your key conference themes—business and innovation—to bring value to your businesses going forward."
Overall South Korean cheese imports grew nearly 150 percent over the last decade, reaching 110,000 metric tons in 2016.
USDEC President Tom Vilsack's opening remarks to U.S. Dairy Business & Innovation Conference in South Korea.
---
South Korea is integral to USDEC's initiative to grow U.S. dairy exports from the equivalent of about 15 percent of annual milk solids production to 20 percent—or The Next 5%, as it has been dubbed.
The nation is the fourth largest U.S. dairy export market in terms of dollar sales, buying $231 million in 2016. Through the first nine months of this year, U.S. dairy export value was running 35 percent higher. South Korea is a particularly prominent buyer of U.S. cheese—our No. 2 world market, with sales up 24 percent in the first three quarters of 2017.
Through 2021, USDEC projects significant growth potential for U.S. cheese exports to South Korea as well as gains in high-value dairy ingredient sales.
A greater in-market presence is a cornerstone for that growth and a driver behind the planning of the Nov. 7-8 U.S. Dairy Business & Innovation Conference. The event highlights U.S. dairy resources and expertise, product diversity and the collaborative spirit of U.S. suppliers seeking to advance mutually beneficial long-term partnerships.
A prerequisite to reaching The Next 5% is next-level customer service and elevated face-to-face interaction that demonstrate commitment to specific foreign markets. With sessions dedicated to examining the latest dietary trends in Korea and how U.S. dairy ingredients and cheese align with and complement those trends, the conference seeks to foster market specific innovation to help drive Korean dairy consumption and mutual growth.
The two-day conference provides U.S. dairy suppliers a forum to continue to build on their success in South Korea thus far by strengthening existing relationships with buyers and forming new ones.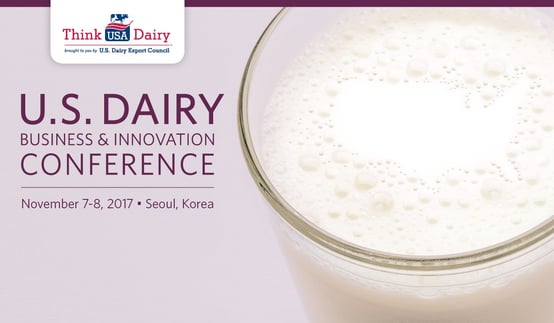 USDEC will be sharing highlights from the conference via the U.S. Dairy Exporter Blog as well as the USDEC Twitter feed. For now, what follows is a transcript of Tom Vilsack's video-taped opening remarks.